Before going to sowing and transplanting seeds, you've to know the proper depth. In this article, we'll know the proper depth of sowing and transplanting seed. So, let's go for it.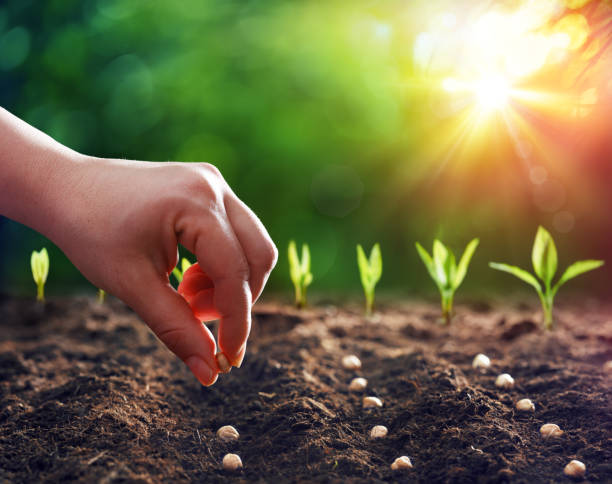 Depth of Sowing Seed
Placing the seed lower than the soil surface and the amount of soil above the seed (cover) determines the favorable conditions around the seed. The depth of sowing varies with seed capacity (size and weight), soil texture, structure, degree of capping, soil moisture content, depth of water table, the season of cultivation, the chemical composition of the soil, and agro-techniques followed.
1. Seed size:
Seeding depth will vary primarily according to the size of the seed. In general, seeds are planted at a depth of two to four times the size of the seed. The following table gives approximate planting seed depths:
In general, the larger the seed, the deeper the sowing is. The range of sowing depth varies from the soil surface (0 cm) to 10 cm below the surface. In certain conditions, it may be deeper. Deeper sowing delays field emergence and thus delays crop duration as the young emerging seedlings have to spend more energy and time to pass through the passage above and come to the soil surface. On the other hand, deeper sowing sometimes ensures crop survival under adverse weather and soil conditions.
| | |
| --- | --- |
| Crops | Seeding depth |
| Wheat, barley, oats, sorghum, rice | 2 to 4 cm |
| Beans, peas, garbanzo beans, faba beans | 3 to 5 cm |
| Corn, soybeans, peanuts | 4 to 8 cm |
| Wheat, barley, oats, sorghum, rice | 2 to 4 cm |
| Beans, peas, garbanzo beans, faba beans | 3 to 5 cm |
Fig. Planting depth
2. Soil moisture: 
Seeding depth will vary secondarily, according to the available moisture in the soil. In wet or heavy soils, seeds are planted just below the soil surface. On light or dry soils, seeds are generally planted at a deeper depth. Deeper sowing normally supplies mole moisture to the seeds than shallow sowing. If there is a moisture deficit (droughty condition), deeper sowing may be practiced, but if the soil moisture is more than field capacity, deeper sowing of oil and protein-rich seeds must be avoided; otherwise, seeds will rot. Several studies indicate that about 40-60% soil moisture is just enough to trigger the germination process of seeds.
3. Soil structure:
Soil structure is essential for placing seeds in the desirable soil depth, covering and compacting, and providing intimate soil-seed contact. When sown, many seeds fall initially into the smaller inter-crumb pores where they germinate. Those that fall into macropores or void spaces do not grow until they come in close contact with a microporous matrix that may be formed subsequently due to rain or irrigation or traffic and effectively incarcerated by the collapse of the unstable crumbs or clods.
4. Light affinity: 
Some seeds contain the phytochrome system and germinate in response to light (positive photoblastic seeds). The phytochrome system acts as an environment detecting device as an informer to seeds to break the dormancy and thus causes germination under favorable conditions. Light does not penetrate more than 1 mm in the field, except there are cracks due to sun drying. Therefore, positive photoblastic seeds should not be sown at a depth exceeding 1 minute, except the seed is exposed to light after imbibition but before sowing.
Depth of Transplanting: 
The depth of transplanting should be shallow for rice and onion while it should be moderately deep for other seedlings. The collar zone (soil-air interface) of seedlings should be placed just below (1 cm depth) or at the soil surface (0 cm depth). Before transplanting wider spaced crops, fertilizer mixture may be placed 5 to 10 cm below the pocket for transplanting. Well-decomposed organic matter may be used to fill the pockets either before or after transplanting.
Planting and transplanting materials
Seeds and other propagules are used for planting. Some vegetative materials can be planted directly in the field under good conditions without nourishment in the nursery. They may be tubers (potato), rhizomes (ginger), fingers (turmeric), crown (turmeric), bunches (onion), cloves (garlic), bulbil (agave), vine (sweet potato), suckers (napier), setts (sugarcane), tillers or clones (rice).