Landscape Design for School, Park, Urban Center:
The institution/non-residential landscape design plan: The institution may be different things – such as schools, colleges, universities.
1. Landscape design for school:
School grounds require space in which children can roam freely. Trees often dominate the landscape, with some functional plants (such as shrubs, planted as functional plants) and a limited area for annuals or bending plants. The goal of landscaping school grounds is to achieve low maintenance and childproof areas.
Many schools operate on a small budget and thus can not afford expensive ground maintenance services. Because children are bound to play around trees, species selected for school ground should be resistant to rough, mechanical treatment.
---
2. Landscape design plan for college campus:
Unlike the primary, middle and high schools, a college campus can often afford ground maintenance services. Landscaping a college campus aims to provide visual continuity by linking the diverse structures on-site using trees, ground covers, and shrubbery. Since funds are available, campuses often can afford a high maintenance landscape.
On a campus with a horticulture academic program, the campus provides an opportunity for installing plant materials in the general landscape for instructional purposes. In other words, the campus may be turned into a kind of giant arboretum.
---
3. Landscape design plan for park and recreational areas: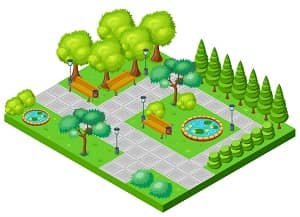 A key goal in designing a landscape for public use, such as a part, is public safety. Appropriate plants should be selected so that the park remains open, without hiding places that may increase criminal activities.
There may have a significant number of non – plant materials in the landscape, including fountains, benches, playground equipment, and statues. Plants are used to complement these objects. Trees and shrubs grouped and spaced randomly are effective ways of landscaping parks.
---
4. Landscape design plan for urban center:
Modern urban centers are characterized by steel and concrete structures. Soil for planting is minimal since the areas that are not streets have concrete pavement for pedestrians. Container planting (raised planters) enables the soil to be imported into downtown areas for planting trees. The plant species selected should be adapted to growing in a confined area and tolerant of urban air pollution.
Trees are planted along streets or in the median. Urban species should be slow-growing and tolerant of moisture stress. Some irrigation is usually needed to keep plants growing healthily. In the business, district trees should not block window displays. Further, the tree selected should not interfere with power lines or light poles. With planning to provide appropriate structural support, irrigation, and drainage, plants may be planted on roofs.